St. Paul's Lutheran Church
Highway 7 & Intersection of Highway 107
Rural Brandon , MN
Phone: 1-800-481-5318
Email: borchardt@eot.com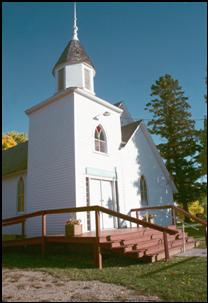 Pastor: Reverend Ed Borchardt
Membership: 25
Summer Worship: 10:30 a.m.
Winter Worship: 11 a.m.
Fellowship held prior to worship.
The mission statement of St. Paul's Lutheran Church is: "Together, Exploring, Nurturing, with God's Truth" (T.E.N.T.)
We value being together, connected to one another in Spirit and in Truth. We value exploring God's lessons and applying those lessons in our life. We value God's nurturing of us with His Word. We value being in the Light of God and sharing His light with others.
We're a teaching and learning church, believing each person has a unique gift to share. Families, singles, single parents, teens and seniors - what a wonderful church family! What an exciting place to come together to explore God's plan for one's life! So often, church can become just another "busy" place. But church is more than that. Most importantly, we invite you to join your heart with ours in wonderful praise and quiet reflection into wonder and awe of a living God.
Come let God's Word lift your spirit! For into our busy changing world, we can take the special treasure of His peace, His joy and His life!