Grace Lutheran Church
205 Central Ave.
Brandon , MN 56315
Phone: 320-834-4873
320-524-2262
Website: www.gracethroughfaithministries.com
Email: grace@gctel.com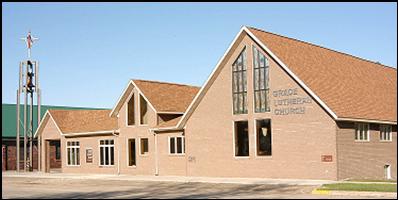 Pastor: Bradley Pearson
Membership: 387
Sunday Worship: 9 a.m.
The mission of Grace Lutheran Church is as follows: "Grace is a caring community of believers in Jesus Christ reaching out to you in God's love."
The members of Grace are working to make that mission a reality by offering weekly worship that centers on the good news of Jesus Christ. Sermons are based on God's Word.
Schedule of services/broadcasts: 9am; Also available online and 8 am Sundays on Gardonville Channel 4 and Selective TV 21.4. Check website for updated schedule.
Grace is a caring community of believers through Jesus Christ reaching out to you in God's Love. We Welcome all people who look to join us in worship and fellowship and seek to be a community which makes a difference in the lives of those around us.
We offer:
Weekly worship that is Christ-centered.

Worship music that assists us to praise our Lord and Savior.

Youth and adult Christian education that is focused on God's word.

Opportunities for service in our community and world. Grace Beyond Our Doors is our mission group that actively seeks to provide members with opportunities to give and serve in our communities and our world.
We pray that through these ministries, we may grow in love of God and in service toward others.
Check out our website and find us on Facebook at "Grace through Faith Ministries" to keep up to date with our ministry, adult and youth opportunities.
History: Plans for the Grace congregation were begun in 1898. The first building was completed in 1905 and the church was incorporated in 1910.